Page 73 - SMUGGLING IN INDIA REPORT FOR 2020-2021
P. 73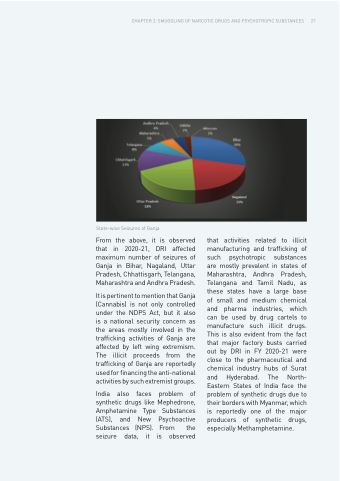 CHAPTER 2: SMUGGLING OF NARCOTIC DRUGS AND PSYCHOTROPIC SUBSTANCES 27
 State-wise Seizures of Ganja
From the above, it is observed that in 2020-21, DRI affected maximum number of seizures of Ganja in Bihar, Nagaland, Uttar Pradesh, Chhattisgarh, Telangana, Maharashtra and Andhra Pradesh.
It is pertinent to mention that Ganja (Cannabis) is not only controlled under the NDPS Act, but it also is a national security concern as the areas mostly involved in the trafficking activities of Ganja are affected by left wing extremism. The illicit proceeds from the trafficking of Ganja are reportedly used for financing the anti-national activities by such extremist groups.
India also faces problem of synthetic drugs like Mephedrone, Amphetamine Type Substances (ATS), and New Psychoactive Substances (NPS). From the seizure data, it is observed
that activities related to illicit manufacturing and trafficking of such psychotropic substances are mostly prevalent in states of Maharashtra, Andhra Pradesh, Telangana and Tamil Nadu, as these states have a large base of small and medium chemical and pharma industries, which can be used by drug cartels to manufacture such illicit drugs. This is also evident from the fact that major factory busts carried out by DRI in FY 2020-21 were close to the pharmaceutical and chemical industry hubs of Surat and Hyderabad. The North- Eastern States of India face the problem of synthetic drugs due to their borders with Myanmar, which is reportedly one of the major producers of synthetic drugs, especially Methamphetamine.