Page 74 - SMUGGLING IN INDIA REPORT FOR 2020-2021
P. 74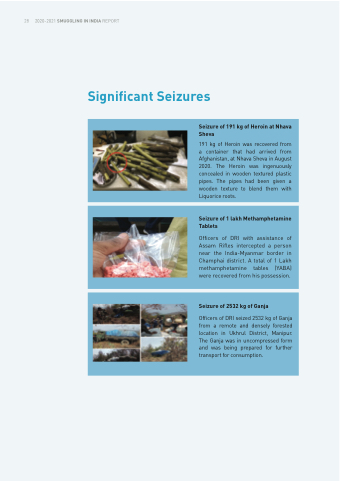 28 2020-2021 SMUGGLING IN INDIA REPORT
Significant Seizures
 Seizure of 191 kg of Heroin at Nhava Sheva
191 kg of Heroin was recovered from a container that had arrived from Afghanistan, at Nhava Sheva in August 2020. The Heroin was ingenuously concealed in wooden textured plastic pipes. The pipes had been given a wooden texture to blend them with Liquorice roots.
  Seizure of 1 lakh Methamphetamine Tablets
Officers of DRI with assistance of Assam Rifles intercepted a person near the India-Myanmar border in Champhai district. A total of 1 Lakh methamphetamine tables (YABA) were recovered from his possession.
  Seizure of 2532 kg of Ganja
Officers of DRI seized 2532 kg of Ganja from a remote and densely forested location in Ukhrul District, Manipur. The Ganja was in uncompressed form and was being prepared for further transport for consumption.