Page 75 - SMUGGLING IN INDIA REPORT FOR 2020-2021
P. 75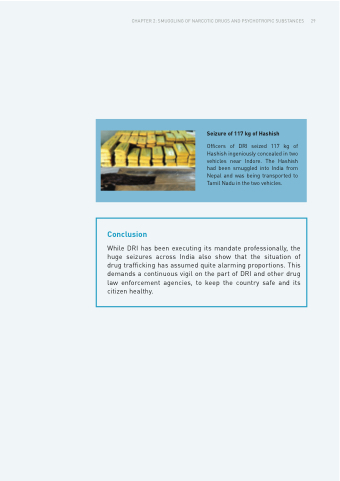 CHAPTER 2: SMUGGLING OF NARCOTIC DRUGS AND PSYCHOTROPIC SUBSTANCES 29
  Seizure of 117 kg of Hashish
Officers of DRI seized 117 kg of Hashish ingeniously concealed in two vehicles near Indore. The Hashish had been smuggled into India from Nepal and was being transported to Tamil Nadu in the two vehicles.
 Conclusion
While DRI has been executing its mandate professionally, the huge seizures across India also show that the situation of drug trafficking has assumed quite alarming proportions. This demands a continuous vigil on the part of DRI and other drug law enforcement agencies, to keep the country safe and its citizen healthy.