Page 168 - SMUGGLING IN INDIA REPORT FOR 2020-2021
P. 168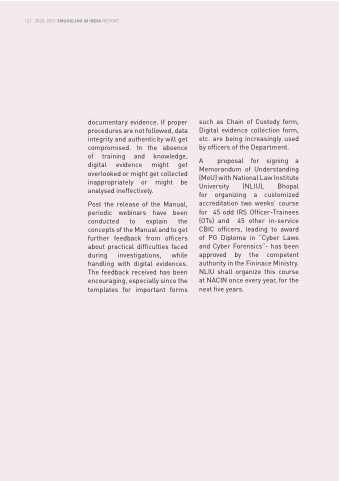 122 2020-2021 SMUGGLING IN INDIA REPORT
documentary evidence. If proper procedures are not followed, data integrity and authenticity will get compromised. In the absence of training and knowledge, digital evidence might get overlooked or might get collected inappropriately or might be analysed ineffectively.
Post the release of the Manual, periodic webinars have been conducted to explain the concepts of the Manual and to get further feedback from officers about practical difficulties faced during investigations, while handling with digital evidences. The feedback received has been encouraging, especially since the templates for important forms
such as Chain of Custody form, Digital evidence collection form, etc. are being increasingly used by officers of the Department.
A proposal for signing a Memorandum of Understanding (MoU) with National Law Institute University (NLIU), Bhopal for organizing a customized accreditation two weeks' course for 45 odd IRS Officer-Trainees (OTs) and 45 other in-service CBIC officers, leading to award of PG Diploma in "Cyber Laws and Cyber Forensics"- has been approved by the competent authority in the Fininace Ministry. NLIU shall organize this course at NACIN once every year, for the next five years.