Page 143 - SMUGGLING IN INDIA REPORT FOR 2020-2021
P. 143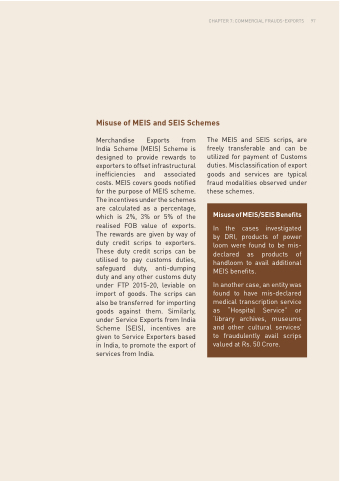 Misuse of MEIS and SEIS Schemes
Merchandise Exports from India Scheme (MEIS) Scheme is designed to provide rewards to exporters to offset infrastructural inefficiencies and associated costs. MEIS covers goods notified for the purpose of MEIS scheme. The incentives under the schemes are calculated as a percentage, which is 2%, 3% or 5% of the realised FOB value of exports. The rewards are given by way of duty credit scrips to exporters. These duty credit scrips can be utilised to pay customs duties, safeguard duty, anti-dumping duty and any other customs duty under FTP 2015-20, leviable on import of goods. The scrips can also be transferred for importing goods against them. Similarly, under Service Exports from India Scheme (SEIS), incentives are given to Service Exporters based in India, to promote the export of services from India.
The MEIS and SEIS scrips, are freely transferable and can be utilized for payment of Customs duties. Misclassification of export goods and services are typical fraud modalities observed under these schemes.
CHAPTER 7: COMMERCIAL FRAUDS-EXPORTS 97
 Misuse of MEIS/SEIS Benefits
In the cases investigated by DRI, products of power loom were found to be mis- declared as products of handloom to avail additional MEIS benefits.
In another case, an entity was found to have mis-declared medical transcription service as "Hospital Service" or 'library archives, museums and other cultural services' to fraudulently avail scrips valued at Rs. 50 Crore.