Page 141 - SMUGGLING IN INDIA REPORT FOR 2020-2021
P. 141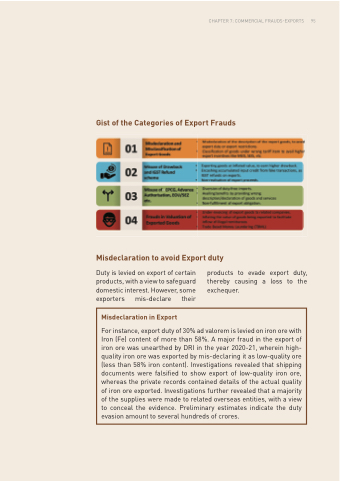 Gist of the Categories of Export Frauds
Misdeclaration to avoid Export duty
    Dutyisleviedonexportofcertain products,withaviewtosafeguard domestic interest. However, some exporters mis-declare their
products to evade export duty, thereby causing a loss to the exchequer.
CHAPTER 7: COMMERCIAL FRAUDS-EXPORTS 95
 Misdeclaration in Export
For instance, export duty of 30% ad valorem is levied on iron ore with Iron (Fe) content of more than 58%. A major fraud in the export of iron ore was unearthed by DRI in the year 2020-21, wherein high- quality iron ore was exported by mis-declaring it as low-quality ore (less than 58% iron content). Investigations revealed that shipping documents were falsified to show export of low-quality iron ore, whereas the private records contained details of the actual quality of iron ore exported. Investigations further revealed that a majority of the supplies were made to related overseas entities, with a view to conceal the evidence. Preliminary estimates indicate the duty evasion amount to several hundreds of crores.