Page 145 - SMUGGLING IN INDIA REPORT FOR 2020-2021
P. 145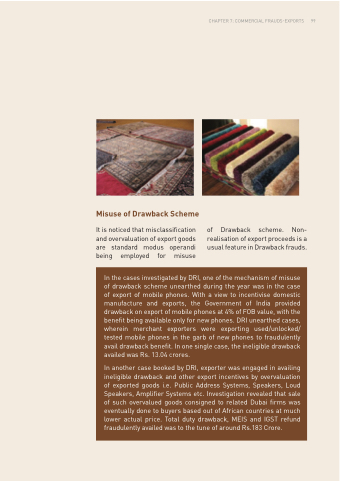 Misuse of Drawback Scheme
It is noticed that misclassification and overvaluation of export goods are standard modus operandi being employed for misuse
of Drawback scheme. Non- realisation of export proceeds is a usual feature in Drawback frauds.
CHAPTER 7: COMMERCIAL FRAUDS-EXPORTS 99
 In the cases investigated by DRI, one of the mechanism of misuse of drawback scheme unearthed during the year was in the case of export of mobile phones. With a view to incentivise domestic manufacture and exports, the Government of India provided drawback on export of mobile phones at 4% of FOB value, with the benefit being available only for new phones. DRI unearthed cases, wherein merchant exporters were exporting used/unlocked/ tested mobile phones in the garb of new phones to fraudulently avail drawback benefit. In one single case, the ineligible drawback availed was Rs. 13.04 crores.
In another case booked by DRI, exporter was engaged in availing ineligible drawback and other export incentives by overvaluation of exported goods i.e. Public Address Systems, Speakers, Loud Speakers, Amplifier Systems etc. Investigation revealed that sale of such overvalued goods consigned to related Dubai firms was eventually done to buyers based out of African countries at much lower actual price. Total duty drawback, MEIS and IGST refund fraudulently availed was to the tune of around Rs.183 Crore.