Page 93 - SMUGGLING IN INDIA REPORT FOR 2020-2021
P. 93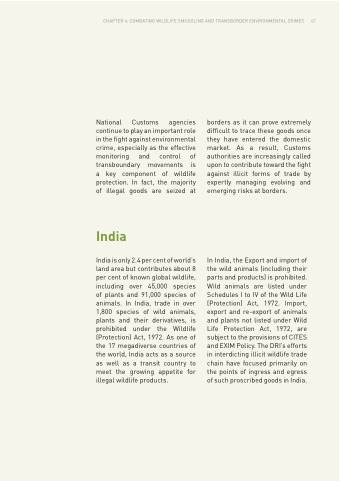 CHAPTER 4: COMBATING WILDLIFE SMUGGLING AND TRANSBORDER ENVIRONMENTAL CRIMES 47
National Customs agencies continue to play an important role in the fight against environmental crime, especially as the effective monitoring and control of transboundary movements is a key component of wildlife protection. In fact, the majority of illegal goods are seized at
India
India is only 2.4 per cent of world's land area but contributes about 8 per cent of known global wildlife, including over 45,000 species of plants and 91,000 species of animals. In India, trade in over 1,800 species of wild animals, plants and their derivatives, is prohibited under the Wildlife (Protection) Act, 1972. As one of the 17 megadiverse countries of the world, India acts as a source as well as a transit country to meet the growing appetite for illegal wildlife products.
borders as it can prove extremely difficult to trace these goods once they have entered the domestic market. As a result, Customs authorities are increasingly called upon to contribute toward the fight against illicit forms of trade by expertly managing evolving and emerging risks at borders.
In India, the Export and import of the wild animals (including their parts and products) is prohibited. Wild animals are listed under Schedules I to IV of the Wild Life (Protection) Act, 1972. Import, export and re-export of animals and plants not listed under Wild Life Protection Act, 1972, are subject to the provisions of CITES and EXIM Policy. The DRI's efforts in interdicting illicit wildlife trade chain have focused primarily on the points of ingress and egress of such proscribed goods in India.