Page 95 - SMUGGLING IN INDIA REPORT FOR 2020-2021
P. 95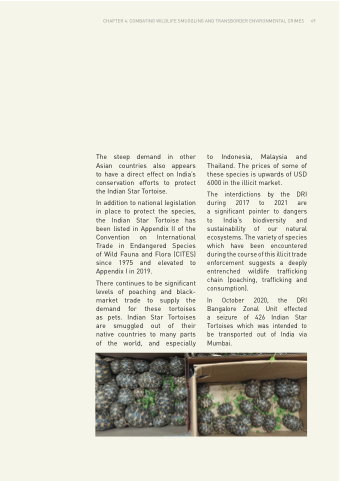 CHAPTER 4: COMBATING WILDLIFE SMUGGLING AND TRANSBORDER ENVIRONMENTAL CRIMES 49
The steep demand in other Asian countries also appears to have a direct effect on India's conservation efforts to protect the Indian Star Tortoise.
In addition to national legislation in place to protect the species, the Indian Star Tortoise has been listed in Appendix II of the Convention on International Trade in Endangered Species of Wild Fauna and Flora (CITES) since 1975 and elevated to Appendix I in 2019.
There continues to be significant levels of poaching and black- market trade to supply the demand for these tortoises as pets. Indian Star Tortoises are smuggled out of their native countries to many parts of the world, and especially
to Indonesia, Malaysia and Thailand. The prices of some of these species is upwards of USD 6000 in the illicit market.
The interdictions by the DRI during 2017 to 2021 are a significant pointer to dangers to India's biodiversity and sustainability of our natural ecosystems. The variety of species which have been encountered during the course of this illicit trade enforcement suggests a deeply entrenched wildlife trafficking chain (poaching, trafficking and consumption).
In October 2020, the DRI Bangalore Zonal Unit effected a seizure of 426 Indian Star Tortoises which was intended to be transported out of India via Mumbai.