Page 91 - SMUGGLING IN INDIA REPORT FOR 2020-2021
P. 91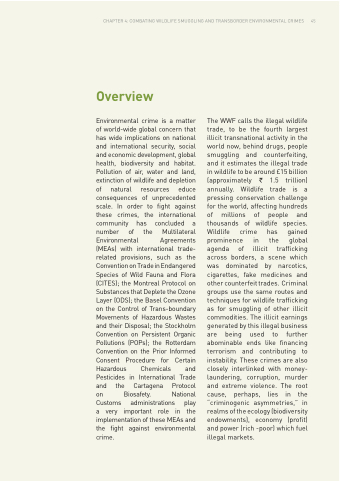 CHAPTER 4: COMBATING WILDLIFE SMUGGLING AND TRANSBORDER ENVIRONMENTAL CRIMES 45
Overview
Environmental crime is a matter of world-wide global concern that has wide implications on national and international security, social andeconomicdevelopment,global health, biodiversity and habitat. Pollution of air, water and land, extinctionofwildlifeanddepletion of natural resources educe consequences of unprecedented scale. In order to fight against these crimes, the international community has concluded a number of the Multilateral Environmental Agreements (MEAs)withinternationaltrade- related provisions, such as the ConventiononTradeinEndangered Species of Wild Fauna and Flora (CITES); the Montreal Protocol on Substances that Deplete the Ozone Layer (ODS); the Basel Convention on the Control of Trans-boundary Movements of Hazardous Wastes and their Disposal; the Stockholm ConventiononPersistentOrganic Pollutions (POPs); the Rotterdam ConventiononthePriorInformed Consent Procedure for Certain Hazardous Chemicals and Pesticides in International Trade and the Cartagena Protocol on Biosafety. National Customs administrations play a very important role in the implementation of these MEAs and the fight against environmental crime.
The WWF calls the illegal wildlife trade, to be the fourth largest illicit transnational activity in the world now, behind drugs, people smuggling and counterfeiting, and it estimates the illegal trade in wildlife to be around £15 billion (approximately $ 1.5 trillion) annually. Wildlife trade is a pressing conservation challenge for the world, affecting hundreds of millions of people and thousands of wildlife species. Wildlife crime has gained prominence in the global agenda of illicit trafficking across borders, a scene which was dominated by narcotics, cigarettes, fake medicines and other counterfeit trades. Criminal groups use the same routes and techniques for wildlife trafficking as for smuggling of other illicit commodities. The illicit earnings generated by this illegal business are being used to further abominable ends like financing terrorism and contributing to instability. These crimes are also closely interlinked with money- laundering, corruption, murder and extreme violence. The root cause, perhaps, lies in the "criminogenic asymmetries," in realms of the ecology (biodiversity endowments), economy (profit) and power (rich -poor) which fuel illegal markets.