Page 69 - SMUGGLING IN INDIA REPORT FOR 2020-2021
P. 69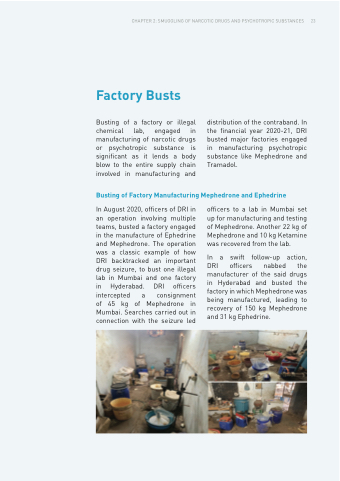 CHAPTER 2: SMUGGLING OF NARCOTIC DRUGS AND PSYCHOTROPIC SUBSTANCES 23
Factory Busts
Busting of a factory or illegal chemical lab, engaged in manufacturing of narcotic drugs or psychotropic substance is significant as it lends a body blow to the entire supply chain involved in manufacturing and
distribution of the contraband. In the financial year 2020-21, DRI busted major factories engaged in manufacturing psychotropic substance like Mephedrone and Tramadol.
Busting of Factory Manufacturing Mephedrone and Ephedrine
In August 2020, officers of DRI in an operation involving multiple teams, busted a factory engaged in the manufacture of Ephedrine and Mephedrone. The operation was a classic example of how DRI backtracked an important drug seizure, to bust one illegal lab in Mumbai and one factory in Hyderabad. DRI officers intercepted a consignment of 45 kg of Mephedrone in Mumbai. Searches carried out in connection with the seizure led
officers to a lab in Mumbai set up for manufacturing and testing of Mephedrone. Another 22 kg of Mephedrone and 10 kg Ketamine was recovered from the lab.
In a swift follow-up action, DRI officers nabbed the manufacturer of the said drugs in Hyderabad and busted the factory in which Mephedrone was being manufactured, leading to recovery of 150 kg Mephedrone and 31 kg Ephedrine.