Page 59 - SMUGGLING IN INDIA REPORT FOR 2020-2021
P. 59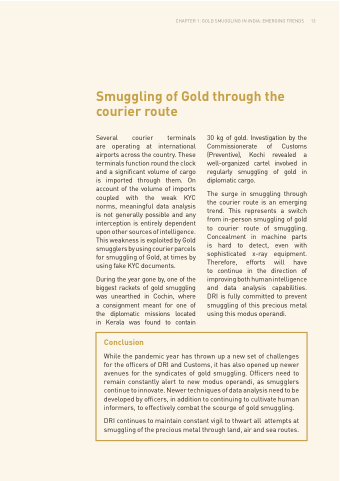 Several courier terminals are operating at international airports across the country. These terminals function round the clock and a significant volume of cargo is imported through them. On account of the volume of imports coupled with the weak KYC norms, meaningful data analysis is not generally possible and any interception is entirely dependent upon other sources of intelligence. This weakness is exploited by Gold smugglers by using courier parcels for smuggling of Gold, at times by
30 kg of gold. Investigation by the Commissionerate of Customs (Preventive), Kochi revealed a well-organized cartel involved in regularly smuggling of gold in diplomatic cargo.
The surge in smuggling through the courier route is an emerging trend. This represents a switch from in-person smuggling of gold to courier route of smuggling. Concealment in machine parts is hard to detect, even with sophisticated x-ray equipment. Therefore, efforts will have to continue in the direction of improving both human intelligence and data analysis capabilities. DRI is fully committed to prevent smuggling of this precious metal using this modus operandi.
using fake KYC
During the year biggest rackets was unearthed a consignment the diplomatic in Kerala was
documents.
gone by, one of the of gold smuggling in Cochin, where meant for one of missions located found to contain
CHAPTER 1: GOLD SMUGGLING IN INDIA: EMERGING TRENDS 13
Smuggling of Gold through the courier route
 Conclusion
While the pandemic year has thrown up a new set of challenges for the officers of DRI and Customs, it has also opened up newer avenues for the syndicates of gold smuggling. Officers need to remain constantly alert to new modus operandi, as smugglers continue to innovate. Newer techniques of data analysis need to be developed by officers, in addition to continuing to cultivate human informers, to effectively combat the scourge of gold smuggling.
DRI continues to maintain constant vigil to thwart all attempts at smuggling of the precious metal through land, air and sea routes.