Page 55 - SMUGGLING IN INDIA REPORT FOR 2020-2021
P. 55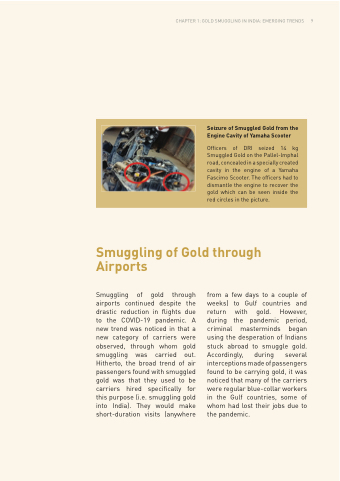 CHAPTER 1: GOLD SMUGGLING IN INDIA: EMERGING TRENDS 9
  Seizure of Smuggled Gold from the Engine Cavity of Yamaha Scooter
Officers of DRI seized 14 kg Smuggled Gold on the Pallel-lmphal road, concealed in a specially created cavity in the engine of a Yamaha Fascimo Scooter. The officers had to dismantle the engine to recover the gold which can be seen inside the red circles in the picture.
Smuggling of Gold through Airports
Smuggling of gold through airports continued despite the drastic reduction in flights due to the COVID-19 pandemic. A newtrendwasnoticedinthata new category of carriers were observed, through whom gold smuggling was carried out. Hitherto, the broad trend of air passengers found with smuggled gold was that they used to be carriers hired specifically for this purpose (i.e. smuggling gold into India). They would make short-duration visits (anywhere
from a few days to a couple of weeks) to Gulf countries and return with gold. However, during the pandemic period, criminal masterminds began using the desperation of Indians stuck abroad to smuggle gold. Accordingly, during several interceptions made of passengers found to be carrying gold, it was noticed that many of the carriers wereregularblue-collarworkers in the Gulf countries, some of whom had lost their jobs due to the pandemic.