Page 31 - SMUGGLING IN INDIA REPORT FOR 2020-2021
P. 31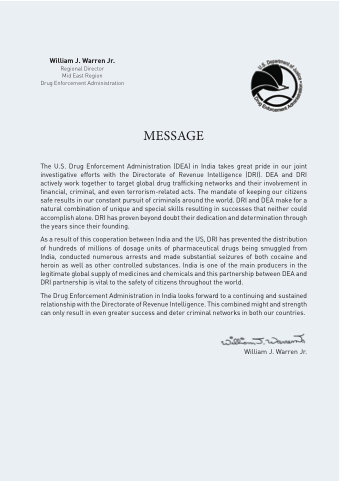 William J. Warren Jr.
Regional Director
Mid East Region
Drug Enforcement Administration
MESSAGE
The U.S. Drug Enforcement Administration (DEA) in India takes great pride in our joint investigative efforts with the Directorate of Revenue Intelligence (DRI). DEA and DRI actively work together to target global drug trafficking networks and their involvement in financial, criminal, and even terrorism-related acts. The mandate of keeping our citizens safe results in our constant pursuit of criminals around the world. DRI and DEA make for a natural combination of unique and special skills resulting in successes that neither could accomplish alone. DRI has proven beyond doubt their dedication and determination through the years since their founding.
As a result of this cooperation between India and the US, DRI has prevented the distribution of hundreds of millions of dosage units of pharmaceutical drugs being smuggled from India, conducted numerous arrests and made substantial seizures of both cocaine and heroin as well as other controlled substances. India is one of the main producers in the legitimate global supply of medicines and chemicals and this partnership between DEA and DRI partnership is vital to the safety of citizens throughout the world.
The Drug Enforcement Administration in India looks forward to a continuing and sustained relationship with the Directorate of Revenue Intelligence. This combined might and strength can only result in even greater success and deter criminal networks in both our countries.
William J. Warren Jr.