Page 189 - SMUGGLING IN INDIA REPORT FOR 2020-2021
P. 189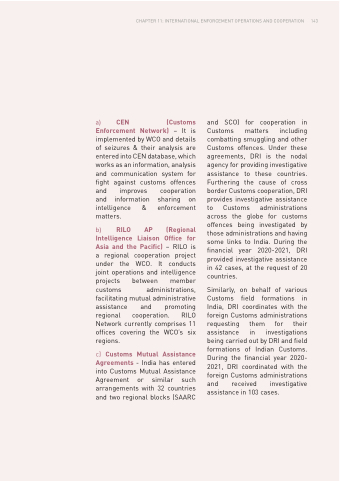 CHAPTER 11: INTERNATIONAL ENFORCEMENT OPERATIONS AND COOPERATION 143
a) CEN (Customs Enforcement Network) – It is implemented by WCO and details of seizures & their analysis are entered into CEN database, which works as an information, analysis and communication system for fight against customs offences and improves cooperation and information sharing on intelligence & enforcement matters.
b) RILO AP (Regional Intelligence Liaison Office for Asia and the Pacific) – RILO is a regional cooperation project under the WCO. It conducts joint operations and intelligence projects between member customs administrations, facilitating mutual administrative assistance and promoting regional cooperation. RILO Networkcurrentlycomprises11 offices covering the WCO's six regions.
c) Customs Mutual Assistance Agreements - India has entered into Customs Mutual Assistance Agreement or similar such arrangements with 32 countries and two regional blocks (SAARC
and SCO) for cooperation in Customs matters including combatting smuggling and other Customs offences. Under these agreements, DRI is the nodal agency for providing investigative assistance to these countries. Furthering the cause of cross border Customs cooperation, DRI provides investigative assistance to Customs administrations across the globe for customs offences being investigated by those administrations and having some links to India. During the financial year 2020-2021, DRI provided investigative assistance in 42 cases, at the request of 20 countries.
Similarly, on behalf of various Customs field formations in India, DRI coordinates with the foreign Customs administrations requesting them for their assistance in investigations being carried out by DRI and field formations of Indian Customs. During the financial year 2020- 2021, DRI coordinated with the foreign Customs administrations and received investigative assistance in 103 cases.