Page 186 - SMUGGLING IN INDIA REPORT FOR 2020-2021
P. 186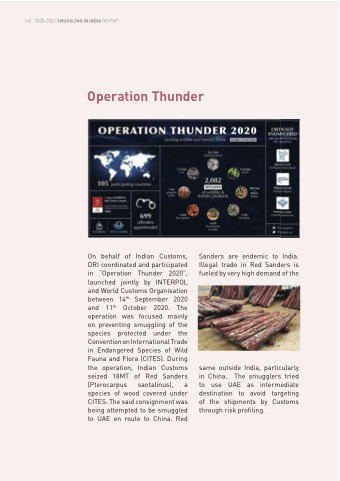 140 2020-2021 SMUGGLING IN INDIA REPORT
Operation Thunder
  On behalf of Indian Customs, DRI coordinated and participated in "Operation Thunder 2020", launched jointly by INTERPOL and World Customs Organisation between 14th September 2020 and 11th October 2020. The operation was focused mainly on preventing smuggling of the species protected under the Convention on International Trade in Endangered Species of Wild Fauna and Flora (CITES). During the operation, Indian Customs seized 18MT of Red Sanders (Pterocarpus santalinus), a species of wood covered under CITES. The said consignment was being attempted to be smuggled to UAE en route to China. Red
Sanders are endemic to India. Illegal trade in Red Sanders is fueled by very high demand of the
 same outside India, particularly in China. The smugglers tried to use UAE as intermediate destination to avoid targeting of the shipments by Customs through risk profiling.