Page 185 - SMUGGLING IN INDIA REPORT FOR 2020-2021
P. 185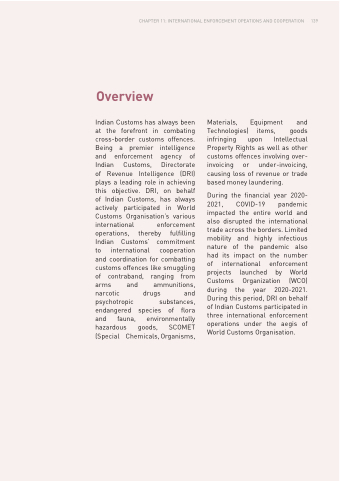 CHAPTER 11: INTERNATIONAL ENFORCEMENT OPEATIONS AND COOPERATION 139
Overview
Indian Customs has always been at the forefront in combating cross-border customs offences. Being a premier intelligence and enforcement agency of Indian Customs, Directorate of Revenue Intelligence (DRI) plays a leading role in achieving this objective. DRI, on behalf of Indian Customs, has always actively participated in World Customs Organisation's various international enforcement operations, thereby fulfilling Indian Customs' commitment to international cooperation and coordination for combatting customs offences like smuggling of contraband, ranging from arms and ammunitions, narcotic drugs and psychotropic substances, endangered species of flora and fauna, environmentally hazardous goods, SCOMET (Special Chemicals,Organisms,
Materials, Equipment and Technologies) items, goods infringing upon Intellectual PropertyRightsaswellasother customs offences involving over- invoicing or under-invoicing, causing loss of revenue or trade based money laundering.
During the financial year 2020- 2021, COVID-19 pandemic impacted the entire world and also disrupted the international trade across the borders. Limited mobility and highly infectious nature of the pandemic also had its impact on the number of international enforcement projects launched by World Customs Organization (WCO) during the year 2020-2021. During this period, DRI on behalf of Indian Customs participated in three international enforcement operations under the aegis of World Customs Organisation.