Page 125 - SMUGGLING IN INDIA REPORT FOR 2020-2021
P. 125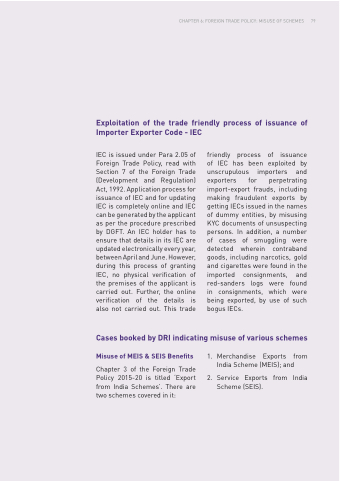 IEC is issued under Para 2.05 of Foreign Trade Policy, read with Section 7 of the Foreign Trade (Development and Regulation) Act, 1992. Application process for issuance of IEC and for updating IEC is completely online and IEC can be generated by the applicant as per the procedure prescribed by DGFT. An IEC holder has to ensure that details in its IEC are updated electronically every year, between April and June. However, during this process of granting IEC, no physical verification of the premises of the applicant is carried out. Further, the online verification of the details is also not carried out. This trade
friendly process of issuance of IEC has been exploited by unscrupulous importers and exporters for perpetrating import-export frauds, including making fraudulent exports by getting IECs issued in the names of dummy entities, by misusing KYC documents of unsuspecting persons. In addition, a number of cases of smuggling were detected wherein contraband goods, including narcotics, gold and cigarettes were found in the imported consignments, and red-sanders logs were found in consignments, which were being exported, by use of such bogus IECs.
CHAPTER 6: FOREIGN TRADE POLICY: MISUSE OF SCHEMES 79
Exploitation of the trade friendly process of issuance of Importer Exporter Code - IEC
Cases booked by DRI indicating misuse of various schemes
Misuse of MEIS & SEIS Benefits
Chapter 3 of the Foreign Trade Policy 2015-20 is titled 'Export from India Schemes'. There are two schemes covered in it:
1. Merchandise Exports from India Scheme (MEIS); and
2. Service Exports from India Scheme (SEIS).