Page 98 - SMUGGLING IN INDIA REPORT FOR 2020-2021
P. 98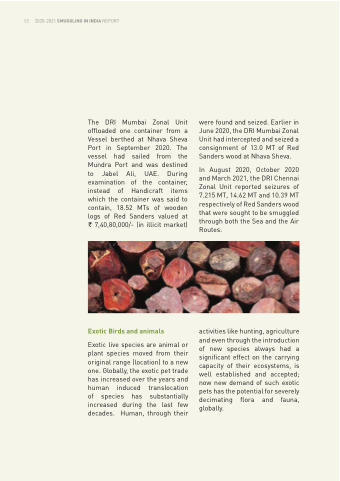 52 2020-2021 SMUGGLING IN INDIA REPORT
The DRI Mumbai Zonal Unit offloaded one container from a Vessel berthed at Nhava Sheva Port in September 2020. The vessel had sailed from the Mundra Port and was destined to Jabel Ali, UAE. During examination of the container, instead of Handicraft items which the container was said to contain, 18.52 MTs of wooden logs of Red Sanders valued at $ 7,40,80,000/- (in illicit market)
werefoundandseized.Earlierin June 2020, the DRI Mumbai Zonal Unit had intercepted and seized a consignment of 13.0 MT of Red SanderswoodatNhavaSheva.
In August 2020, October 2020 and March 2021, the DRI Chennai Zonal Unit reported seizures of 7.215 MT, 14.62 MT and 10.39 MT respectively of Red Sanders wood that were sought to be smuggled through both the Sea and the Air Routes.
 Exotic Birds and animals
Exotic live species are animal or plant species moved from their original range (location) to a new one. Globally, the exotic pet trade has increased over the years and human induced translocation of species has substantially increased during the last few decades. Human, through their
activities like hunting, agriculture and even through the introduction of new species always had a significant effect on the carrying capacity of their ecosystems, is well established and accepted; now new demand of such exotic pets has the potential for severely decimating flora and fauna, globally.