Page 82 - SMUGGLING IN INDIA REPORT FOR 2020-2021
P. 82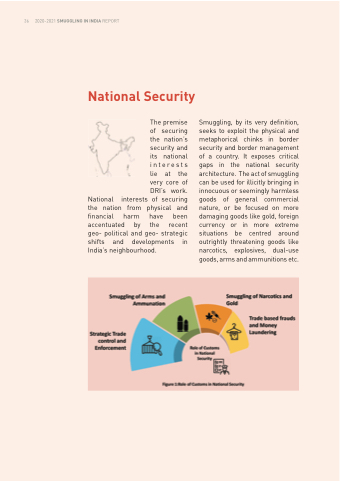 36 2020-2021 SMUGGLING IN INDIA REPORT
National Security
The premise of securing the nation's security and its national interests lie at the very core of DRI's work.
National interests of securing the nation from physical and financial harm have been accentuated by the recent geo- political and geo- strategic shifts and developments in India's neighbourhood.
Smuggling, by its very definition, seeks to exploit the physical and metaphorical chinks in border security and border management of a country. It exposes critical gaps in the national security architecture.Theactofsmuggling can be used for illicitly bringing in innocuous or seemingly harmless goods of general commercial nature, or be focused on more damaginggoodslikegold,foreign currency or in more extreme situations be centred around outrightlythreateninggoodslike narcotics, explosives, dual-use goods, arms and ammunitions etc.