Page 63 - SMUGGLING IN INDIA REPORT FOR 2020-2021
P. 63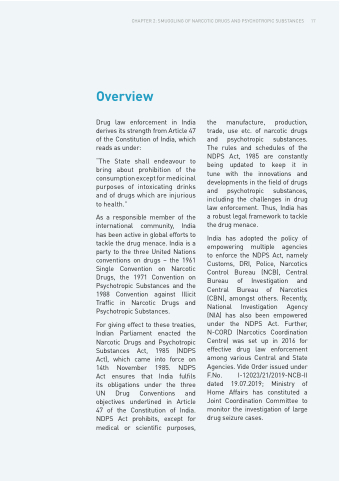 CHAPTER 2: SMUGGLING OF NARCOTIC DRUGS AND PSYCHOTROPIC SUBSTANCES 17
Overview
Drug law enforcement in India derives its strength from Article 47 of the Constitution of India, which reads as under:
"The State shall endeavour to bring about prohibition of the consumption except for medicinal purposes of intoxicating drinks and of drugs which are injurious to health."
As a responsible member of the international community, India has been active in global efforts to tackle the drug menace. India is a party to the three United Nations conventions on drugs – the 1961 Single Convention on Narcotic Drugs, the 1971 Convention on Psychotropic Substances and the 1988 Convention against Illicit Traffic in Narcotic Drugs and Psychotropic Substances.
For giving effect to these treaties, Indian Parliament enacted the Narcotic Drugs and Psychotropic Substances Act, 1985 (NDPS Act), which came into force on 14th November 1985. NDPS Act ensures that India fulfils its obligations under the three UN Drug Conventions and objectives underlined in Article 47 of the Constitution of India. NDPS Act prohibits, except for medical or scientific purposes,
the manufacture, production, trade, use etc. of narcotic drugs and psychotropic substances. The rules and schedules of the NDPS Act, 1985 are constantly being updated to keep it in tune with the innovations and developments in the field of drugs and psychotropic substances, including the challenges in drug law enforcement. Thus, India has a robust legal framework to tackle the drug menace.
India has adopted the policy of empowering multiple agencies to enforce the NDPS Act, namely Customs, DRI, Police, Narcotics Control Bureau (NCB), Central Bureau of Investigation and Central Bureau of Narcotics (CBN), amongst others. Recently, National Investigation Agency (NIA) has also been empowered under the NDPS Act. Further, N-CORD (Narcotics Coordination Centre) was set up in 2016 for effective drug law enforcement among various Central and State Agencies. Vide Order issued under F.No. I-12023/21/2019-NCB-II dated 19.07.2019; Ministry of Home Affairs has constituted a Joint Coordination Committee to monitor the investigation of large drug seizure cases.