Page 50 - SMUGGLING IN INDIA REPORT FOR 2020-2021
P. 50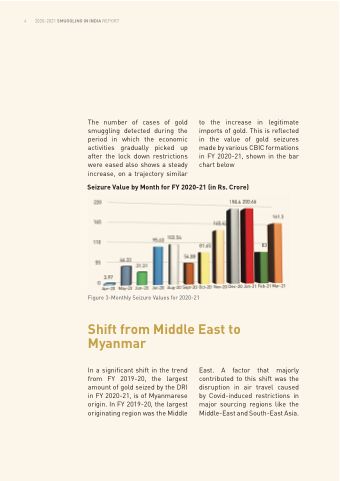 4 2020-2021 SMUGGLING IN INDIA REPORT
The number of cases of gold smuggling detected during the period in which the economic activities gradually picked up after the lock down restrictions were eased also shows a steady increase, on a trajectory similar
to the increase in legitimate imports of gold. This is reflected in the value of gold seizures made by various CBIC formations in FY 2020-21, shown in the bar chart below
Seizure Value by Month for FY 2020-21 (in Rs. Crore)
Figure 3-Monthly Seizure Values for 2020-21
Shift from Middle East to Myanmar
  In a significant shift in the trend from FY 2019-20, the largest amount of gold seized by the DRI in FY 2020-21, is of Myanmarese origin. In FY 2019-20, the largest originating region was the Middle
East. A factor that majorly contributed to this shift was the disruption in air travel caused by Covid-induced restrictions in major sourcing regions like the Middle-East and South-East Asia.