Page 45 - SMUGGLING IN INDIA REPORT FOR 2020-2021
P. 45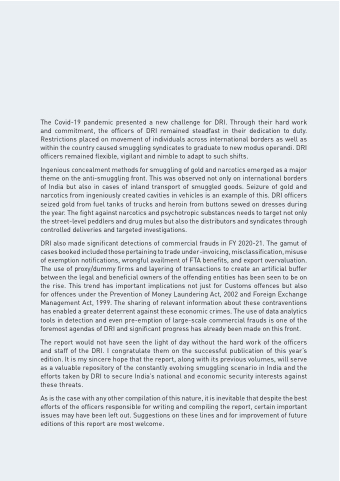 The Covid-19 pandemic presented a new challenge for DRI. Through their hard work and commitment, the officers of DRI remained steadfast in their dedication to duty. Restrictions placed on movement of individuals across international borders as well as within the country caused smuggling syndicates to graduate to new modus operandi. DRI officers remained flexible, vigilant and nimble to adapt to such shifts.
Ingenious concealment methods for smuggling of gold and narcotics emerged as a major theme on the anti-smuggling front. This was observed not only on international borders of India but also in cases of inland transport of smuggled goods. Seizure of gold and narcotics from ingeniously created cavities in vehicles is an example of this. DRI officers seized gold from fuel tanks of trucks and heroin from buttons sewed on dresses during the year. The fight against narcotics and psychotropic substances needs to target not only the street-level peddlers and drug mules but also the distributors and syndicates through controlled deliveries and targeted investigations.
DRI also made significant detections of commercial frauds in FY 2020-21. The gamut of cases booked included those pertaining to trade under-invoicing, misclassification, misuse of exemption notifications, wrongful availment of FTA benefits, and export overvaluation. The use of proxy/dummy firms and layering of transactions to create an artificial buffer between the legal and beneficial owners of the offending entities has been seen to be on the rise. This trend has important implications not just for Customs offences but also for offences under the Prevention of Money Laundering Act, 2002 and Foreign Exchange Management Act, 1999. The sharing of relevant information about these contraventions has enabled a greater deterrent against these economic crimes. The use of data analytics tools in detection and even pre-emption of large-scale commercial frauds is one of the foremost agendas of DRI and significant progress has already been made on this front.
The report would not have seen the light of day without the hard work of the officers and staff of the DRI. I congratulate them on the successful publication of this year's edition. It is my sincere hope that the report, along with its previous volumes, will serve as a valuable repository of the constantly evolving smuggling scenario in India and the efforts taken by DRI to secure India's national and economic security interests against these threats.
As is the case with any other compilation of this nature, it is inevitable that despite the best efforts of the officers responsible for writing and compiling the report, certain important issues may have been left out. Suggestions on these lines and for improvement of future editions of this report are most welcome.