Page 181 - SMUGGLING IN INDIA REPORT FOR 2020-2021
P. 181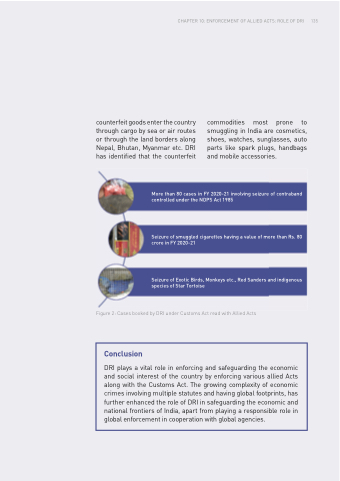 counterfeit goods enter the country through cargo by sea or air routes or through the land borders along Nepal, Bhutan, Myanmar etc. DRI has identified that the counterfeit
commodities most prone to smuggling in India are cosmetics, shoes, watches, sunglasses, auto parts like spark plugs, handbags and mobile accessories.
CHAPTER 10: ENFORCEMENT OF ALLIED ACTS: ROLE OF DRI 135
  More than 80 cases in FY 2020-21 involving seizure of contraband controlled under the NDPS Act 1985
Seizure of smuggled cigarettes having a value of more than Rs. 80 crore in FY 2020-21
Seizure of Exotic Birds, Monkeys etc., Red Sanders and indigenous species of Star Tortoise
Figure 2: Cases booked by DRI under Customs Act read with Allied Acts
 Conclusion
DRI plays a vital role in enforcing and safeguarding the economic and social interest of the country by enforcing various allied Acts along with the Customs Act. The growing complexity of economic crimes involving multiple statutes and having global footprints, has further enhanced the role of DRI in safeguarding the economic and national frontiers of India, apart from playing a responsible role in global enforcement in cooperation with global agencies.