Page 157 - SMUGGLING IN INDIA REPORT FOR 2020-2021
P. 157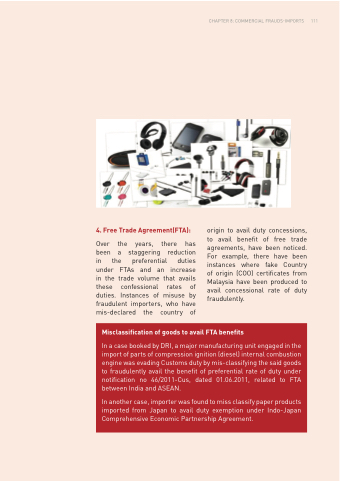 CHAPTER 8: COMMERCIAL FRAUDS-IMPORTS 111
 4. Free Trade Agreement(FTA):
Over the years, there has been a staggering reduction in the preferential duties under FTAs and an increase in the trade volume that avails these confessional rates of duties. Instances of misuse by fraudulent importers, who have mis-declared the country of
origin to avail duty concessions, to avail benefit of free trade agreements, have been noticed. For example, there have been instances where fake Country of origin (COO) certificates from Malaysia have been produced to avail concessional rate of duty fraudulently.
 Misclassification of goods to avail FTA benefits
In a case booked by DRI, a major manufacturing unit engaged in the import of parts of compression ignition (diesel) internal combustion engine was evading Customs duty by mis-classifying the said goods to fraudulently avail the benefit of preferential rate of duty under notification no 46/2011-Cus, dated 01.06.2011, related to FTA between India and ASEAN.
In another case, importer was found to miss classify paper products imported from Japan to avail duty exemption under Indo-Japan Comprehensive Economic Partnership Agreement.