Page 154 - SMUGGLING IN INDIA REPORT FOR 2020-2021
P. 154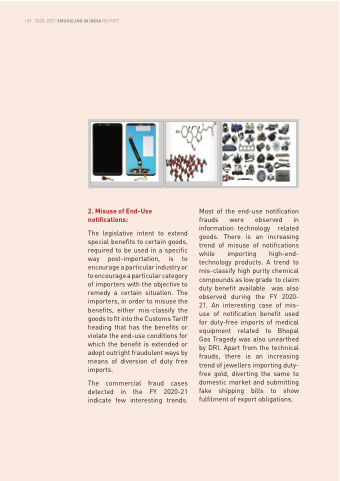 108 2020-2021 SMUGGLING IN INDIA REPORT
    2. Misuse of End-Use notifications:
The legislative intent to extend special benefits to certain goods, required to be used in a specific way post-importation, is to encourage a particular industry or to encourage a particular category of importers with the objective to remedy a certain situation. The importers, in order to misuse the benefits, either mis-classify the goods to fit into the Customs Tariff heading that has the benefits or violate the end-use conditions for which the benefit is extended or adopt outright fraudulent ways by means of diversion of duty free imports.
The commercial fraud cases detected in the FY 2020-21 indicate few interesting trends.
Most of the end-use notification frauds were observed in information technology related goods. There is an increasing trend of misuse of notifications while importing high-end- technology products. A trend to mis-classify high purity chemical compounds as low grade to claim duty benefit available was also observed during the FY 2020- 21. An interesting case of mis- use of notification benefit used for duty-free imports of medical equipment related to Bhopal Gas Tragedy was also unearthed by DRI. Apart from the technical frauds, there is an increasing trend of jewellers importing duty- free gold, diverting the same to domestic market and submitting fake shipping bills to show fulfilment of export obligations.