Page 120 - SMUGGLING IN INDIA REPORT FOR 2020-2021
P. 120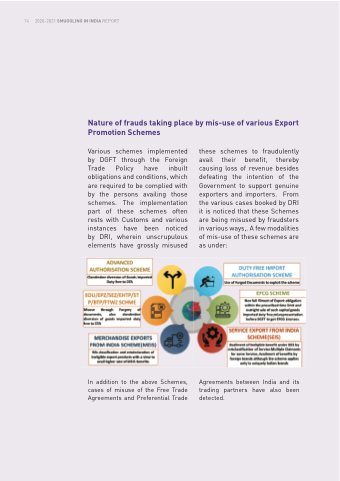 74 2020-2021 SMUGGLING IN INDIA REPORT
Nature of frauds taking place by mis-use of various Export Promotion Schemes
Various schemes implemented by DGFT through the Foreign Trade Policy have inbuilt obligations and conditions, which are required to be complied with by the persons availing those schemes. The implementation part of these schemes often rests with Customs and various instances have been noticed by DRI, wherein unscrupulous elements have grossly misused
these schemes to fraudulently avail their benefit, thereby causing loss of revenue besides defeating the intention of the Government to support genuine exporters and importers. From the various cases booked by DRI it is noticed that these Schemes are being misused by fraudsters in various ways,. A few modalities of mis-use of these schemes are as under:
  In addition to the above Schemes, cases of misuse of the Free Trade Agreements and Preferential Trade
Agreements between India and its trading partners have also been detected.