Page 115 - SMUGGLING IN INDIA REPORT FOR 2020-2021
P. 115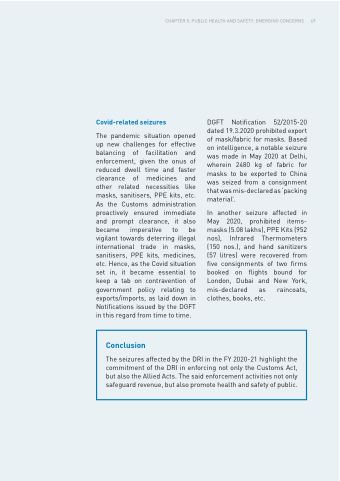 Covid-related seizures
The pandemic situation opened up new challenges for effective balancing of facilitation and enforcement, given the onus of reduced dwell time and faster clearance of medicines and other related necessities like masks, sanitisers, PPE kits, etc. As the Customs administration proactively ensured immediate and prompt clearance, it also became imperative to be vigilanttowardsdeterringillegal international trade in masks, sanitisers, PPE kits, medicines, etc. Hence, as the Covid situation set in, it became essential to keep a tab on contravention of government policy relating to exports/imports, as laid down in Notifications issued by the DGFT in this regard from time to time.
DGFT Notification 52/2015-20 dated 19.3.2020 prohibited export of mask/fabric for masks. Based on intelligence, a notable seizure was made in May 2020 at Delhi, wherein 2480 kg of fabric for masks to be exported to China was seized from a consignment that was mis-declared as 'packing material'.
In another seizure affected in May 2020, prohibited items- masks (5.08 lakhs), PPE Kits (952 nos), Infrared Thermometers (150 nos.), and hand sanitizers (57 litres) were recovered from five consignments of two firms booked on flights bound for London, Dubai and New York, mis-declared as raincoats, clothes, books, etc.
CHAPTER 5: PUBLIC HEALTH AND SAFETY: EMERGING CONCERNS 69
 Conclusion
The seizures affected by the DRI in the FY 2020-21 highlight the commitment of the DRI in enforcing not only the Customs Act, but also the Allied Acts. The said enforcement activities not only safeguard revenue, but also promote health and safety of public.