Page 101 - SMUGGLING IN INDIA REPORT FOR 2020-2021
P. 101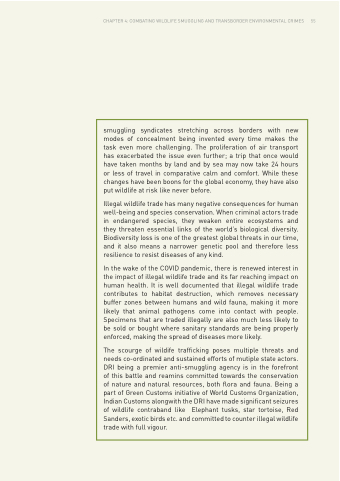 CHAPTER 4: COMBATING WILDLIFE SMUGGLING AND TRANSBORDER ENVIRONMENTAL CRIMES 55
 smuggling syndicates stretching across borders with new modes of concealment being invented every time makes the task even more challenging. The proliferation of air transport has exacerbated the issue even further; a trip that once would have taken months by land and by sea may now take 24 hours or less of travel in comparative calm and comfort. While these changes have been boons for the global economy, they have also put wildlife at risk like never before.
Illegal wildlife trade has many negative consequences for human well-being and species conservation. When criminal actors trade in endangered species, they weaken entire ecosystems and they threaten essential links of the world's biological diversity. Biodiversity loss is one of the greatest global threats in our time, and it also means a narrower genetic pool and therefore less resilience to resist diseases of any kind.
In the wake of the COVID pandemic, there is renewed interest in the impact of illegal wildlife trade and its far reaching impact on human health. It is well documented that illegal wildlife trade contributes to habitat destruction, which removes necessary buffer zones between humans and wild fauna, making it more likely that animal pathogens come into contact with people. Specimens that are traded illegally are also much less likely to be sold or bought where sanitary standards are being properly enforced, making the spread of diseases more likely.
The scourge of wildife trafficking poses multiple threats and needs co-ordinated and sustained efforts of mutiple state actors. DRI being a premier anti-smuggling agency is in the forefront of this battle and reamins committed towards the conservation of nature and natural resources, both flora and fauna. Being a part of Green Customs initiative of World Customs Organization, Indian Customs alongwith the DRI have made significant seizures of wildlife contraband like Elephant tusks, star tortoise, Red Sanders, exotic birds etc. and committed to counter illegal wildlife trade with full vigour.